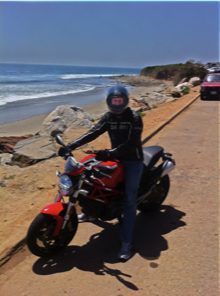 TESTIMONIALS:


"Being from North Texas I have never had a chance to ride the 'twisties' but Rich was the perfect guide and taught me how to handle the curves and stay out of trouble.

The first day was seeing all the sights of Los Angeles and getting used to the rented Ducati.

The second day we toured just about every road in the Santa Monica mountains and that really gave me a good dose of the curves.

The third day was an unbelievable ride up to Wrightwood, CA, through the mountain passes at over 7000ft up!

Overall it was the best time I've ever had on two wheels and well worth the money since I would have never figured out LA in such a short time. I'm looking forward to coming back and doing it again with these guys."

...
Andrew - Dallas, TX